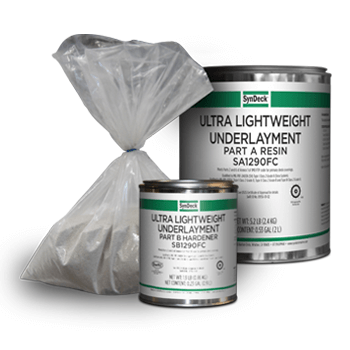 SynDeck™ Ultra Lightweight Underlayment (SS1290FC) is a three component, aggregate-filled, 100% solids, amine-cured epoxy flooring product. It is very low odor, has excellent adhesion and is specifically designed to be less than 1.0lbs/ft² (4.88kg/m²) at ¼" (6.3mm) installed. It can be applied as an ultra lightweight underlayment for all approved deck systems, over approved prime coats or without primer over properly prepared surfaces. SynDeck™ Ultra Lighweight Underlayment is designed as a wet-to-wet application in conjunction with SynDeck™ Bond Coat SS1222.
Meets parts 2 and 5 of annex 1 of the IMO FTP Code 2010 for Primary Deck Coverings
ABS Approved
Qualified to MIL-PRF-24613A(SH), MIL-PRF-32584, and MIL-PRF-3135(H) as part of various systems
Qualified for Submarine application
Meets NAG Defence Standard 07-247 as part of various SynDeck™ systems
Key Features and Benefits
Ultra lightweight
Trowel applied
Can sloped to drains and scuppers
Can be used below tiles, vinyl and carpet as a waterproof underlayment
NAVSEA US Navy Certification
MIL-PRF-32584
Type IV, Class 1 & 2, Grade A, Comp E (Deco System)
MIL-PRF-24613A (SH)
Type I, Class 2, Grade B (Deco System)
MIL-PRF-3135H
Type III, Class 2, Grade A (Deco System)
Type I, II, & III, Class 2, Grade B (Deco System)
IMO Certificates
ABS Approval

ABS PRODUCT TYPE APPROVAL
Transport Canada VFSR Compliance
Meets Requirement. Refer to ABS Product Type Approval Certificate.