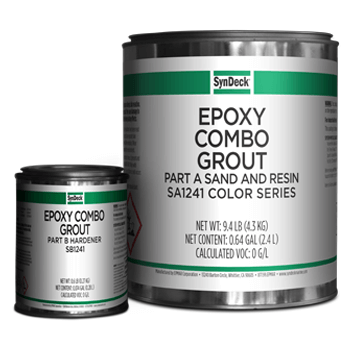 SynDeck™ Epoxy Combo Grout SS1241 is a 100% solids two component epoxy combined with carefully selected sand to produce a quality tile setting/grout material. It is easy to clean up with water, has outstanding thermal cycling capacity, and excellent chemical resistance. SynDeck™ Epoxy Combo Grout is very low odor and is the ideal product to use for tile grout.
Key Features and Benefits
Superior setting and finishing material
Outstanding thermal cycling capacity
Works well with porcelain, stone and quarry tile
Excellent chemical resistance
Color Chart
SS1241 BF - Black
SS1241 BBF - Blue-Black
SS1241 GF - Gray Fine
Colors shown are approximate representations. Actual results will vary.